Saturday, June 18th - Channel 10
Air Dates
Every Tuesday at 7pm, Friday at 9pm, and Sunday at 8am
Description
Join Pastor King Rhodes for inspirational sermons and advice on how to change your life for the better!
Monster Madhouse (specials)
Air Dates
Mondays at 9pm, Thursdays at 7:30am, and Saturdays at 8;30am
Description
Your neighborhood garden expert is here to help answer all your questions about plants, flowers, weeds, tools, chemicals, pests, wildlife, landscaping, growing, and more! Featuring a plant of the week and step-by-step instructions, Dr. John's show will entertain & inform even the green thumb beginner.
Thanks to these supporters who have underwritten the show:
AAA Tree Service
Bobbex, Inc.
Burke Garden Center
Campbell & Ferrara Nursery
Gutterman Services
Holly, Woods, & Vines
Merrifield Garden Center
St. Gabriel Laboratories
Tart Lumber Co.
Windows Plus
Yards Are Us 
Producer:
John Buckreis
P.O. Box 209
Annandale, VA 22003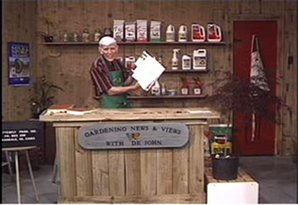 Air Dates
Every Saturday at 9am, Sunday at 12am, and Sunday at 9am
Description
Watch this political dialogue show every week touching on various topics.
Air Dates
Tuesdays at 3pm, Thursdays at 6am, Saturdays at 830am
Description
Life offers us many challenges and there are times when we just don't know where to turn.  That's why Jesus offers Good News.  During this program, you will hear the word of God from a minister of the gospel.  If you have bad news, there is Good News. 
Dr. Libbys World of Medicine
Air Dates
Every Tuesday at 530am, Friday at 1130pm, Saturday at 9pm
Description
Watch Roundball Report every week for up to date basketball news and interviews.