Wednesday, July 27th - Channel 10
Air Dates
Every Wednesday at 1230am, Thursday at 8pm, and Sunday at 830am
Description
Tune in every week for financial and investment news from around the globe.
Description
HTRTV - Historic Tours and Recipes airs every month with recipes from restaurants around the area and chefs from all areas.
Air Dates
Every Tuesday at 3:30pm, Every Thursday at 1am, Every Saturday at 10:30am
Description
Gospel Central features the latest gospel music videos and artists from around the nation.
Air Dates
Every Thursday at 8pm, Every Saturday at 7am, Every Sunday at 10am on Channel 36 - Every Tuesday at 8pm on Channel 10
Description
Catholic Life is designed to explore, examine, and explain the many organizations and ministries of the church, and to create an interest and promote community involvement in activities which benefit all - catholic and non-catholic alike.
Contact:
Butterfly Productions 
P.O. Box 209
Annandale, VA 22003
Producer
John Buckreis
Air Dates
Every Monday at 8pm, Wednesday at 12pm, and Friday at 5am
Description
Every Monday night, tune in for a live political debate show with local candidates, community organizers, and more. 
Air Dates
Tuesdays at 3pm, Thursdays at 6am, Saturdays at 830am
Description
Life offers us many challenges and there are times when we just don't know where to turn.  That's why Jesus offers Good News.  During this program, you will hear the word of God from a minister of the gospel.  If you have bad news, there is Good News. 
Unleavened Bread Bible Study
Air Dates
Every Monday at 11:30am, Wednesday at 4pm, and Sunday at 5:30am
Description
With all the things going on, wouldn't you like to hear a word that comes from God with a spirit backing it? That's the reason it's on this station every week and they want you to tune in. There is a word encounter and spirit filling for you. See you again!
Air Dates
1st and 3rd Wednesday at 8pm, Saturday at 7:30am, and Sunday at 1pm
Description
Co-hostess Arline Sachs, "Chuck" Mason, Jr. and/or Sallyann Sack interview guests about different phases of genealogy. Guests have been from the Library of Congress, National Archives, local museums & research facilities, and countries as far as England & Australia.
Website
Producer
Sidney Sachs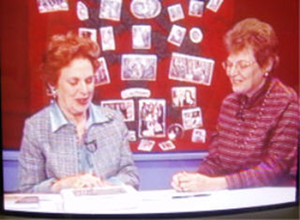 Air Dates
Wednesday at 8:30pm, Fridays at 6:30am, and Sundays at 3:30pm
Description
A program dedicated to showcasing the many different ways people & organizations have of communicating with one another. For example, we communicate through speech, action, socially, humor, science, religion, the arts, music, medicine, politics & so on. The ultimate goal is to improve communications in the world with the end result being to better the human condition. Our program has been "on the air" since 1988 and we are approaching our 700th show!
Website
Producer
John Monsul
Air Dates
Every Monday at 6am, Tuesday at 5pm. and Wednesday at 11pm
Description
This program features yoga demonstrated by Cynthia and other guests. Each show targets a specific interest, such as "Yoga to Improve Your Golf Swing," "Yoga For Athletes," Children's Yoga, Gentle Yoga" & more.
Air Dates
Every Wednesday at 7pm, Saturday at 7:30am, and Sunday at 9am on Channel 36 -Every Tuesday at 630am on Channel 10
Phone
703.796.9673
Description
Never the Same is a 30 minute teaching message by Pastor Bill Bakkeby from Word of Grace, a family church located on Redskin Drive in Herndon, VA. Pastor Bill was given direction by God who said, "My Word changed your life, It will change the life of others also." You can hear the power of the Gospel, which can change your life at the times listed above.
Website