Saturday, July 9th - Channel 10
Air Dates
Every Tuesday at 7pm, Friday at 9pm, and Sunday at 8am
Description
Join Pastor King Rhodes for inspirational sermons and advice on how to change your life for the better!
Monster Madhouse (specials)
Air Dates
1st and 2nd Wednesday at 830am, Friday at 5pm, and Saturday at 5am
Description
Potluck aims to have lively and interesting discussions on topics of interest to viewers in the DC metropolitan area.
Air Dates
Description
Fast Forward: Contemporary Science Fiction is a monthly half-hour television series about the genres of science fiction, fantasy, and horror. 
Air Dates
Every Monday at 930pm, Friday at 12pm, and Saturday at 6am
Description
Amazing Grace TV explores faith, spirituality, and God from a biblical perspective.
Air Dates
Every Wednesday at 7:30pm, Friday at 3am, and Saturday at 11pm
Description
Super 8 Action Theatre is a mix of vintage television programs, serials, and cartoons, along with some in-studio segments, catered to the after-school crowd.
Air Dates
1st and 3rd Wednesday at 8pm, Saturday at 7:30am, and Sunday at 1pm
Description
Co-hostess Arline Sachs, "Chuck" Mason, Jr. and/or Sallyann Sack interview guests about different phases of genealogy. Guests have been from the Library of Congress, National Archives, local museums & research facilities, and countries as far as England & Australia.
Website
Producer
Sidney Sachs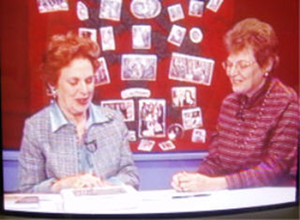 Air Dates
2nd and 4th Friday at 830pm, Saturday at 8am, and Sunday at 730pm
Description
Join your host Steve Mullen and others for the latest professional and local sports news.
Air Dates
Mondays at 9pm, Thursdays at 7:30am, and Saturdays at 8;30am
Description
Your neighborhood garden expert is here to help answer all your questions about plants, flowers, weeds, tools, chemicals, pests, wildlife, landscaping, growing, and more! Featuring a plant of the week and step-by-step instructions, Dr. John's show will entertain & inform even the green thumb beginner.
Thanks to these supporters who have underwritten the show:
AAA Tree Service
Bobbex, Inc.
Burke Garden Center
Campbell & Ferrara Nursery
Gutterman Services
Holly, Woods, & Vines
Merrifield Garden Center
St. Gabriel Laboratories
Tart Lumber Co.
Windows Plus
Yards Are Us 
Producer:
John Buckreis
P.O. Box 209
Annandale, VA 22003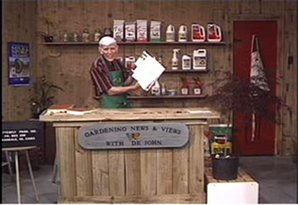 Air Dates
Every Saturday at 9am, Sunday at 12am, and Sunday at 9am
Description
Watch this political dialogue show every week touching on various topics.
Air Dates
Tuesdays at 3pm, Thursdays at 6am, Saturdays at 830am
Description
Life offers us many challenges and there are times when we just don't know where to turn.  That's why Jesus offers Good News.  During this program, you will hear the word of God from a minister of the gospel.  If you have bad news, there is Good News. 
Air Dates
1st and 2nd Monday at 7am, Friday at 8pm, and Saturday at 4pm
Description
Rotary Time is your local Rotarian program on Fairfax Public Access Channel 10.
Air Dates
Every Tuesday at 530am, Friday at 1130pm, Saturday at 9pm
Description
Watch Roundball Report every week for up to date basketball news and interviews. 
Air Dates
2nd Wednesday at 4am, Saturday at 930pm, Sunday at 8pm
Description
Get updates on the latest news around Fairfax County in this FPA produced program.
Air Dates
Every Thursday at 8:30pm, Friday at 7am, and Saturday at 10pm on Channel 10 - Every Friday at 7pm on Channel 36
Phone
703.591.4187
Description
Telepathic TV - That's Television You Watch With Your Third Eye!
Telepathic TV, hosted by R. Neville Johnston and Mary Phelan, is a live, call in show that has aired over 500 episodes, showcasing the most brilliant techniques in the metaphysical world. Bringing you the forefront of new consciousness, to enlighten and empower the viewer.  The show gives practical information, such as banishing fear, releasing guilt, meditation, breath exercise, claiming your power, intuitive development techniques and much more!
Website
Producer
R. Neville Johnston